Microsoft dynamics AX 2012 Functional (Production) online training |USA providing by Specto IT Training.
Product information management to define and create products and product variants. Products of the types Item and Service are used in the sales, purchase, and operational processes in Microsoft Dynamics AX 2012. When products have been defined and created, you can authorize the products for use by releasing the products to individual legal entities.
When you have defined a product master in Product information management, you can create product variants manually or you can use configuration technologies such as the Product Builder and the Product configuration to configure the product variants.
How Does Production Module Help a business?
Minimize lead times and satisfy customer demand with flexible scheduling options

Control the utilization of your manufacturing resources for optimum performance

Track production progress and easily make changes to increase production efficiency and reduce costs

Production in Microsoft Dynamics AX comprises three modules: Production I, which includes basic production functionality for handling material flow; Production II, which allows you to plan and execute routes, operations and rough capacity planning; and Production III, job management and detailed production scheduling.
Contact US for free demo session :
Specto IT Training
India :+91-9533456356
info@spectoittraining.com
Visit :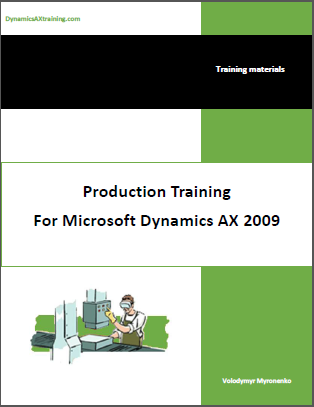 This training gives you knowledge in Production and how it is implemented in Microsoft Dynamics AX 2009. We will see how the Production module is integrated with the Financial module and go through the production life cycle. All production entities and processes are described in a convenient way with the step-by-step examples in Dynamics AX. The training covers the main topics and is a good manual for passing an interview or a certification.
The content of the Production training for Dynamics AX 2009 includes the following topics:
Basic concepts

Bills of Material

Work Centers

Routes and Operations

Production life cycle:

Creating a Production Order

Estimating

Scheduling

Releasing

Shipping Components

Starting

Posting a Job in Shop Floor Control

Posting a Job Manually

Reporting as Finished

Ending
Delivery package includes:
Production training

Questions & Answers for DAX 2009 Production Exam.